Wednesday, June 9, 2021
Shannon Cuddle® Sewing Machine Comparison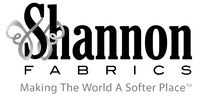 This week Shannon Fabrics did a machine comparison. Which machine works best for sewing with Cuddle®?
We've got everything you need. Panels are $3.99 to $5.99 each. Flat-fold yardage is $6.00 per yard. All 100% Cotton, 44/45" wide. Stretch...
Create amazing sea creatures and plush toys using Premier Snow Cone yarn! This soft yarn retails at $7.99 and is available in a variety of p...